FutureGaze: The Future of Digital Culture (VIDEO)
blog
06/07/22
Missed out on our last FutureGaze event? No worries, we've got it filmed so you can catch up!
FutureGaze is a lunchtime series brought to you by Creative Edinburgh, providing time out to reflect and gaze into the future of the creative industries.
In conversation with Caroline Parkinson, we welcome creative leaders who have innovated and led significant changes in their creative business, artistic or academic practice over the past year to share what the future looks like for them - and for the creative and cultural sector.

What does FutureGaze explore?
From new ways of accessing digital audiences to new artistic sustainability practices, FutureGaze will cover a range of themes that impact creative freelancers, sole traders and businesses.
Joined by a lineup from across the creative industries, Caroline will delve into the radical shifts in thinking and practice they've made over the past couple of years and explore what's been learned through these changes. We will reflect on how clients and audiences may have changed and how they think the sector may need to adapt. We will share the innovations they have developed or harnessed to facilitate change and what's on the horizon, ready to drive forward their work into a sustainable future.
June's Discussion: The Future of Digital Culture
As we emerge from Covid-19 restrictions a degree of uncertainty remains on how we as audiences will, or want to, engage with cultural activity in-person or online. What benefits of the digital response that the cultural sector created do we want to retain? What skills are needed to continue to innovate and deliver in this way? What advantages has digital delivery brought to audiences but also for the longer term in adding to the digital archive of cultural work? Can we build upon what has been developed? How can we maximise the potential of our cultural archives? What are the implications, benefits and policy decisions we need to consider as we move forward?
Our Guest: Melissa Terras - Professor of Digital Cultural Heritage at the University of Edinburgh
Melissa Terras is a Professor of Digital Cultural Heritage at the University of Edinburgh, leading digital aspects of research as Director of the Edinburgh Centre for Data, Culture and Society. Her research interest is the digitisation of cultural heritage, including advanced digitisation techniques, usage of large-scale digitisation, and the mining and analysis of digitised content. She previously directed UCL Centre for Digital Humanities in the UCL Department of Information Studies, where she was employed from 2003 to 2017. She is a Fellow of the Alan Turing Institute, and an Expert Advisor to the UK Government's Department of Digital, Culture, Media and Sport.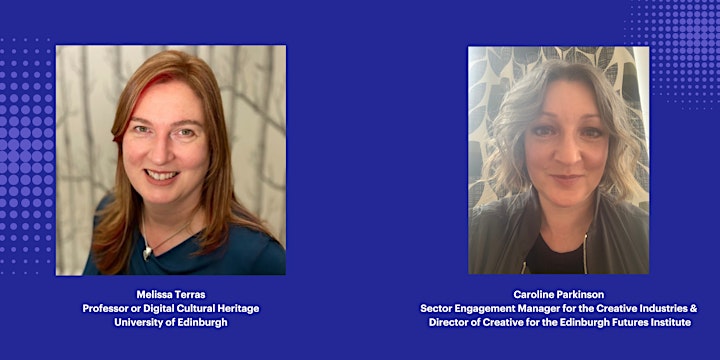 Caroline is Sector Engagement Manager for the Creative Industries and Director of Creative for the Edinburgh Futures Institute having previously developed the sector plan and white paper for the creative industries for the Data-Driven Innovation Programme within the University of Edinburgh. Prior to this from 2014 to 2018 she provided consultancy in the creative industries specialising in business development, innovation and skills, latterly completing a 2-year contract to stimulate innovation in creative industries with Interface. From 2010 to 2014 she was Director of Film, TV, Music, Creative Industries, Skills & Innovation for the newly formed Creative Scotland, and prior to that from 2005 to 2010 she was Director, Scotland & Northern Ireland for the new sector skills association, Creative & Cultural Skills.
Her early creative life included ballet and rhythmic gymnastics, fashion, singing in bands for over 30 years, and photography, becoming a professional photographer in 1999.
She serves on the Board of Architecture & Design Scotland, and until recently served on the board of the Scottish Music Industry Association, and for four years has served in a voluntary capacity as Strategic Director and Presenter of the MOVE Summit, Scotland's Animation and VFX Gathering.
join us
Join Us
and be part of
our community
Join now
£0
Creative Edinburgh Member
Apply for Mentoring Scheme